***WE DID IT!***
Many thanks to each of you who donated to NAPPA's matching fund effort to help Houston Mini Pig Rescue & Network. We just received a contribution of $20, making our total received $1500. Doubled that will give HMPRN $3,000 to use for food or other needs as they work to recover. We wish to extend special thanks to Joyce Aleckna of Happy Hill Farm and Animal Refuge for sending $700. We are equally grateful to Sharyn Meryl (Sammy the Hammy's mom) for raising $600 from her raffle. Last ,but not least, we very much appreciate those smaller donors who made up the remainder, giving us a total of $3,000 to send to Texas!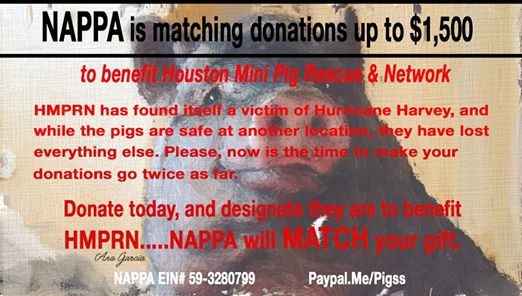 North American Pet Pig Association
Joyce Murdoch Aleckna Thank you for making the match so the money will make a difference for Houston
Patty Hunter Amazing! You all are such a blessing to us down here in Houston! ❤
Thank you all!