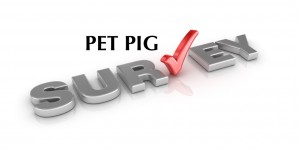 To further the education on potbellied pigs NAPPA will be conducting Surveys from time to time. The more we learn about the potbellied pig the healthier and happier they will be.
We are currently conducting a survey regarding pet pigs…it is a lengthy survey, so please give yourself some time to complete it. We would be very grateful if you do take part. You can use this link below….
NAPPA pet pig online survey
Or you can take it right here on the website!